Is AI set to change drug development?
By
Rasa Noren
| September 15, 2023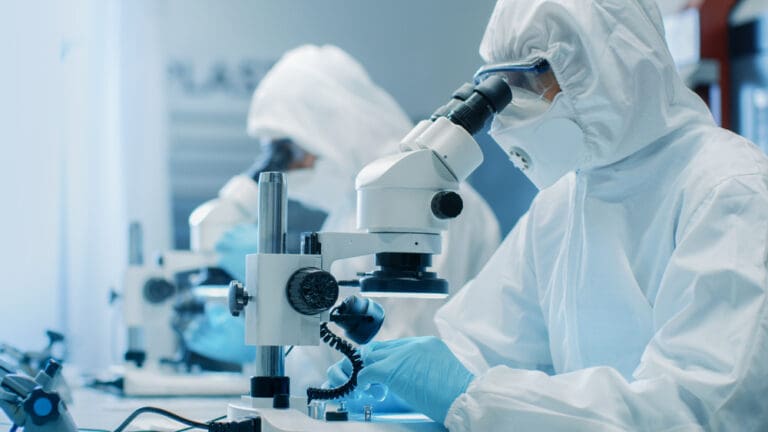 For all our technological advances over recent decades, the emergence of completely new drugs to tackle some of the world's most prevalent diseases have been few and far between as often recently approved drugs are just repurposed existing drugs.
But that could be about to change.
By harnessing the power of artificial intelligence (AI) and combining it with complex data science, companies are now working at ushering in a new way to develop new drugs which go above and beyond the conventions relied upon for generations.
If it delivers on its promise, it could transform the lives of millions of people.
And, for investors, it represents a tantalising opportunity to disrupt an already trillion-dollar global sector.
The Pharmaceutical Industry's Growth
According to Statista, the global pharmaceutical industry will be worth an eye-watering USD1.15 trillion by the end of 2023.
That, it predicts, will grow to USD1.48 trillion by 2028 – exhibiting a CAGR of 5.8%.
If new transformative drugs emerge onto the market, that could be about to increase yet further.
The global AI in drug discovery market size was estimated at USD1.4 billion in 2022, according to Precedence Research, and is projected to hit around USD9.7 billion by 2032 – a CAGR of 21.36%.
California-based Verseon is Spearheading the New approach to Drug Development.
This Silicon Valley company, founded in 2002, has spent the past 20 years developing the fundamental scientific advances necessary through its platform for discovering new drug compounds for some of the world's major healthcare challenges.
It believes it is releasing totally new drug candidates that have the potential to transform how we delay, prevent, and treat disease.
Leading its endeavours is chief executive and co-founder Adityo Prakash. No stranger to breakthrough technologies, he was responsible for developing the technology that transformed the streaming industry.
Now the focus is firmly set on improving our health
Verseon felt the only way to design new drugs would require building a system that can use molecular physics to accurately predict how a new chemical structure will bind to a disease-causing protein.
It creates drugs atom by atom, using a proprietary technology platform that goes far beyond just the application of AI and involves complex data science.
It is in stark contrast to the 100-year-old trial and error drug discovery method that has limited greatly the number of genuinely novel drug developments and returns on R&D investments in this sector.
Big Pharma has a relatively small number of drug compounds to work with using this approach; one of the larger players may hold a little over two million, while the industry globally probably tests around seven to ten million molecule compounds which is tiny compared with what's possible.
To add further context, of the 10,000 plus known human diseases, the established trial-and-error model can barely tackle 500, and many current drugs have nasty side effects that create secondary problems.
Verseon aims to broaden the net dramatically
Explains its CEO Adityo Prakash: "AI has a data problem with which the pharmaceutical industry has not yet come to terms with.
"So far, the industry has managed to generate experimental data for fewer than ten million distinct chemicals out of an astounding total of a billion trillion trillion unique drug-like compounds that can be synthesized under the rules of organic chemistry.
"Compare that number to 10 million and you see we're not even fishing in a tide pool next to the ocean. We're fishing in a droplet."
It claims it is "navigating unchartered waters" in the pursuit of entirely new drug molecules with unique therapeutic properties.
Verseon's Innovative approach
Its key point of difference is that most other drug development companies only train their AI on existing experimental data.
The result is that new 'drug discoveries' in the pharma industry are, more often than not, modifications of existing structures rather than new compounds.
Prakash warns: "It is virtually impossible for current AI approaches to find breakthrough novel drugs unaided."
Already, it has developed 16 new drug candidates across eight major disease areas in the last five years – a pace of development Prakash describes as "unthinkable in the pharma paradigm".
All are completely novel chemicals which could not be found using the trial-and-error method.
The areas in which the drugs, now in clinical trials, include diabetes, cancer, heart attacks and strokes.
The three most advanced drug candidates alone have an addressable market of USD200 billion a year, says Verseon.
It is not alone in ploughing a furrow in this exciting new space
There are a number of companies which are harnessing AI in different ways to come up with new drugs to tackle the biggest diseases.
San Francisco based Atomwise has raised close to USD200 million so far in funding. It has developed a machine learning-based discovery engine that "combines the power of convolutional neural networks with massive chemical libraries" to discover new small molecule medicines.
UK-based Exscientia is "actively applying AI to precision engineer medicines more rapidly and efficiently".
Insilico Medicine, meanwhile, based in Hong Kong, describes itself as "on a mission to accelerate drug discovery and development by leveraging our rapidly evolving, proprietary Pharma.AI platform across biology, chemistry and clinical development."
Regulatory Hurdles and the Future
As ever in the world of life sciences, regulatory hurdles can be slow and laborious to leap – all of which puts a constant strain as R&D so often comfortably outstrips revenues. These new approaches do not affect the clinical trials process but they do create the ability to find totally new novel drugs that could transform how we manage global healthcare.
Yet the potential, if they deliver, could be as close to a miracle as modern science can currently deliver.
CONCLUSION
As global life expectancy continues to grow – experts suspect the first person to live to 150 has already been born – the need to deliver a quality of life in older age is growing.
Not to mention a need to finally tackle some of the biggest killers – such as cancer, heart disease and diabetes. Breakthroughs in all these healthcare challenges would ease suffering and alleviate pressure on healthcare systems.
The potential returns for investors are enormous and using AI in these novel ways can mitigate risk greatly which has been one of the biggest hurdles in this space. The delay as the results go to the testing stage and undertake the regulatory steps, potentially can be shortened as another major benefit. All the while, companies need to keep alert to the balance books as R&D consumes money.
COMPANIES TO WATCH
Verseon, Insilico Medicine, Exscientia, Atomwise